As of 03.04.2023, all newly produced Team lights come with new user profiles and extended functions as standard. Starting with Vendor Firmware 1.113, these features are automatically uploaded. There are three user profiles to choose from.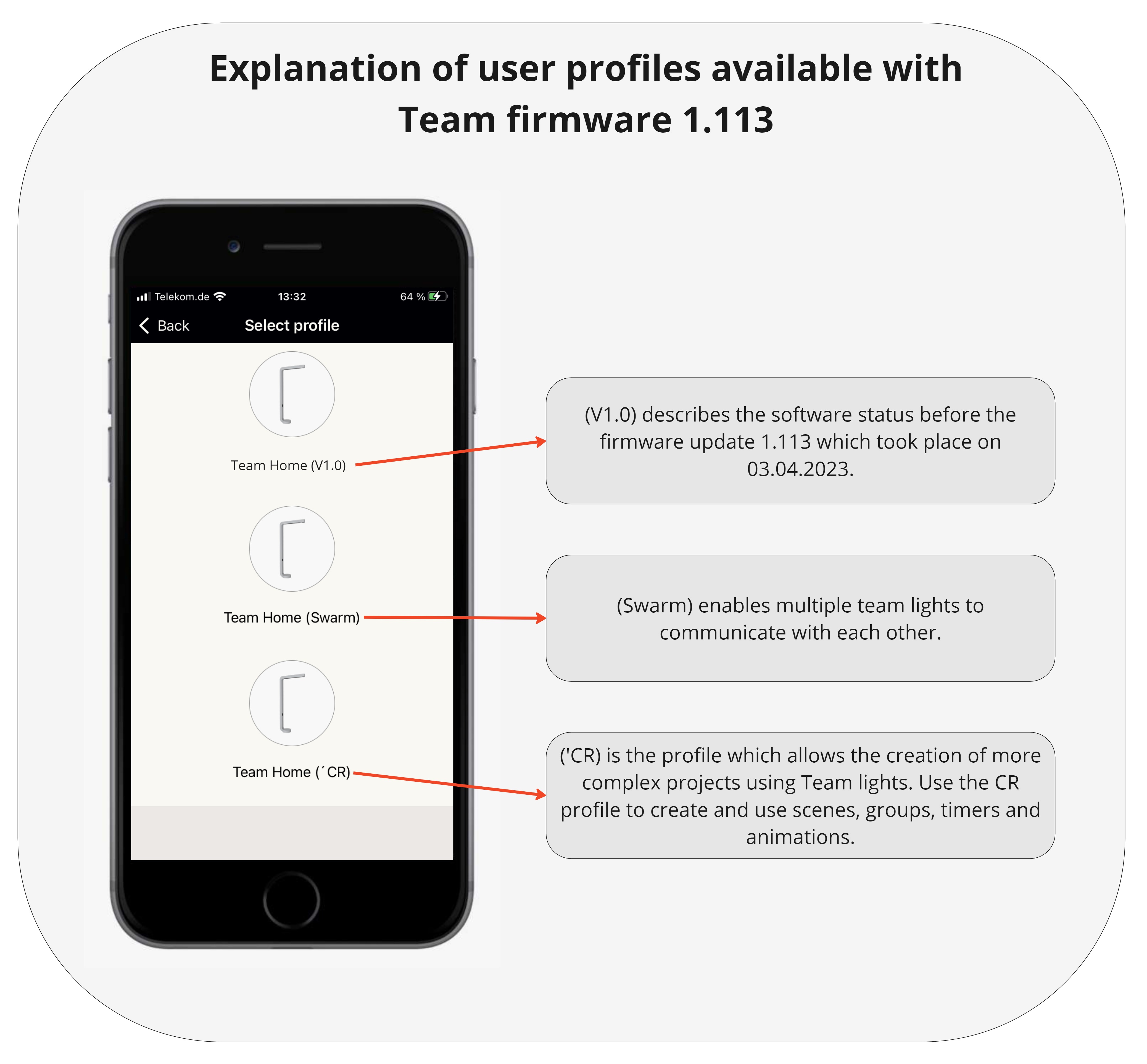 Team lights produced between 01.01.2022 and 31.03.2023 can continue to be operated with the standard installed software. An update is not mandatory.
When should I perform a software update?
- When your luminaire starts to flicker / blink / go on and off in short intervals in a heavily dimmed state.
You can correct this behavior with the new parameters "Upper / Lower Brightness Tolerance".
- You want to use the auto brightness even more efficiently.
Starting with version 1.113, you can adjust this value via the parameter "Auto brightness target value".
- You want to adjust the sensitivity of the motion detector.
The three existing gradations of the parameter "Motion sensitivity" have been improved.
- You have several Team luminaires with sensors, and want to use them even more efficiently with the swarm control function, and at the same time improve the lighting quality and user satisfaction in your (group) office?
To enable the luminaires to communicate with each other usimg the swarm function, select the profile Team xxx (Swarm), and connect luminaires within a network via the parameter "Swarm group".
- You are a Casambi expert and want to integrate our Team luminaires into your cross-product lighting concept?
With the Team xxx ('CR) profile, it is possible to freely assign the luminaire, the sensor and the smart switch on the luminaire via the app. Additional features such as "scenes, groups, timer and animations" are available in this profile.
Instructions on how to perform this update can be found here.
Instructions on how to change the profile of team lights with already assigned profiles can be found here.